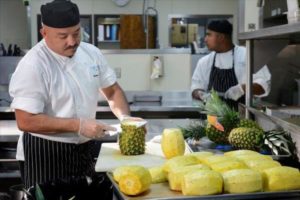 Read full article at ocregister.com
Picture a school lunch tray, and what do you see? If you imagined burgers and tacos, you're right. And that got us to thinking: What if restaurant chefs made school lunches?
We put the challenge to two local chefs, asking them to meet national guidelines and prices for K-5 lunches, and then asked school district food services officials how they performed.
The whole exercise taught us a lesson about our preconceived notions of cafeteria food and enlightened us on what kids will eat. Read on for menus and recipes, and to get schooled by chefs feeding kids two out of three daily meals.
Azmin Ghahreman, executive chef and owner of Sapphire Laguna restaurant and Sapphire at School
No dried chicken base or sauce mixes. No shelf-stable precooked concoctions. No frozen pizza or icy, shrink-wrapped chicken à la king.
Ghahreman, executive chef and owner of Sapphire Laguna restaurant in Laguna Beach, cooks from scratch. That applies to his restaurant as well as the school lunches he provides through the Sapphire at School program, which he started in 2008.
"We don't use box cutters and hairnets – we use chefs' knives and chefs' hats," Ghahreman said, referring to his school lunches, his dialogue sounding prayer-like when eschewing ready-to-use processed foods. "Every child is my child, and every child deserves a healthy start," said the father of four, trailing into a conversation about the importance of school menus that are rich in fresh fruits, fresh vegetables and whole grains. He insists that school meals be made with the best ingredients and that they appeal to kids. Keeping track of the children's likes and dislikes, he questions students and teachers about the food regularly.
Hundreds of Orange County schoolchildren eat his chef-driven lunches. Most attend private schools, such as St. Margaret's Episcopal School in San Juan Capistrano, and the Pegasus School in Huntington Beach.
Unlike his private school meals, the lunches he provides at El Sol Science and Arts Academy (a public charter school in Santa Ana) must conform to the strict federal regulations of the National School Lunch Program, the provisos required due to the large number of the students that qualify for free or reduced-price lunches.
The USDA specifications regulate the serving sizes of vegetables, fruits, grains and meats or meat substitutes. They also regulate calorie counts, the amount of saturated fats and sodium. And – drum roll here – the provider is reimbursed $2.98 per student and is required to substantiate compliance with rigorous record keeping.
For kindergarten through fifth grade students, that means not less than 1/2 cup fruit, 3/4 cup vegetables, 1 ounce whole grains, 1 ounce meat or meat alternatives and 1 cup milk (low fat, 1 percent or less unflavored, or fat-free unflavored or flavored). Calorie counts must range between 550 and 650, with saturated fat content less than 10 grams and sodium less than 1,230 milligrams.
Every recipe and menu is analyzed by Ghahreman's on-staff nutritionist, and daily plans include both meat and vegetarian options. He says to succeed, he needed to develop a strategy to gain the trust of the largely Hispanic El Sol student body.
"I started with dishes with familiar tastes and ingredients, such as chicken fajita bowls with pinto beans and brown rice, or roast turkey with tortilla stuffing with a little enchilada gravy," he said. "Later, when they trust me, there will be hummus with more cumin, and instead of carrots and celery we'll have jicama and cucumbers. We will give them (house-made) frozen yogurt bars dipped in dark chocolate, and Greek yogurt with honey and fresh berries."
At the Sapphire at School commissary in Costa Mesa, I watched as chefs cooked and packaged lunches. The 5,000-square-foot facility looked like a pristine hotel banquet kitchen, with busy staff slicing, dicing, sautéing and packaging. One employee was working his way through a mountain of fresh pineapples, peeling and meticulously removing any "eyes" before cutting the sweet fruit into bite-sized cubes. Off to the side, a tall rack held the day's delivery of whole-wheat breads and rolls; made in a bakery in Laguna Beach, the breads are delivered to the facility at 5 a.m. Five refrigerated trucks stood ready in the parking lot to ferry the food to the schools.
I nosed my way into the enormous walk-in refrigerators. Some held fresh fruits and vegetables; others had containers of made-in-house stock, marinara sauce and mirepoix (chopped celery, onions, and carrots). Sampling a spoonful of sunflower butter – a peanut butter substitute – I was pleasantly surprised by its appealing texture and rich flavor. Ghahreman told me he attends the Natural Products Expo West in Anaheim every year to see and taste healthful new products that may be useful in his menu planning.
Asked to identify the trickiest part of complying with the regulations, he said it is important to stay updated about regulation changes and keep good records. With a broad smile, he said you need to put love in the dishes – the best seasoning – and keep good employees.
"The El Sol crew has to measure carefully. They use measured scoops to get the right amount. And I've found I have to build a relationship in which the children have confidence in the dishes. Because it is different doesn't mean it isn't good. The bottom line is that all these kids are eating healthier."