Read full article at ocregister.com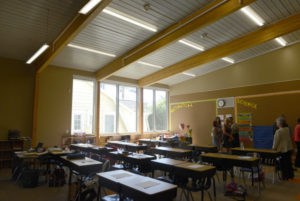 SANTA ANA – Sitting in classrooms they've only been in since January, students in one fifth-grade class couldn't stop listing reasons why their new room in a 12-classroom building was better than their old one. Their new classroom is filled with Smart Boards, a library and an extra table for group collaborations; the overcrowded bungalows they had in the fall had broken lights and a creaky floor, they said, and one boy chimed in that there were cockroaches.
In January, dual-immersion charter school El Sol Science and Arts Academy of Santa Ana on 1010 N. Broadway opened its first multiclassroom building. Students in second, fourth and fifth grade moved into the new two-story 19,000-square-foot building after winter break on Jan. 13, said Monique Daviss, executive director of El Sol.
The building added 12 classrooms accommodating more than 300 students.
The biggest change has been the increased space teachers and students have in their classrooms. In addition to Smart Boards, each room was equipped with computers and large walls to post their class work.
Nathan Kadota, 10-year-old fifth-grader, said that the bungalow classrooms didn't have many places to decorate the walls, and that he and his classmates could barely move without bumping into one another.
"We got to these new buildings and I can freely move," Kadota said, happy that no longer would he bump into others, "getting them angry and getting into a fight with someone."
On Thursday, staff from Project Frog, the component building company that managed the design and construction of the project, gave tours of the new building during an unveiling event. Attendees included Mayor Miguel Pulido, Santa Ana Unified School District Superintendent Rick Miller and school board member Rob Richardson.
Construction of the new building started in June and finished in December. Because half of the building's components were prefabricated and made off-site, the building took less time to complete and cost less than a building made completely on-site, said Marijke Smit, vice president of education for Project Frog.
The building was also designed to be energy efficient. All of Project Frog's buildings, including the one at El Sol, are made to achieve a Silver rating from Leadership in Energy and Environmental Design (LEED), Smit added.
The school has used modular bungalows since the charter school opened in 2001, Daviss said. More modular classrooms were installed as the school grew, but that tightened space inside the classroom and outside for recreational activity, she said.
While the addition of the new building has helped, there are still more than 25 modular classrooms at the school. Roughly 878 students from prekindergarten to eighth grade attend the school.
The remaining campus upgrades, which include the next two academic buildings totaling 26 classrooms, would cost roughly $18 million, said Marshall Kaplan, adviser to the partnering Merage Foundations and El Sol.