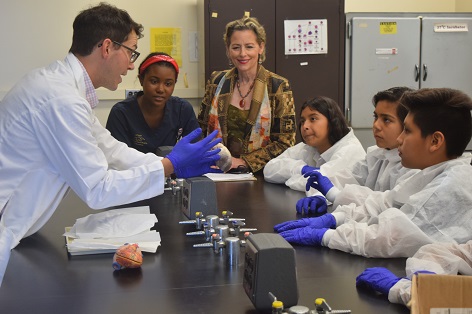 Read the full article at www.nursing.uci.edu
They dissected sheep hearts, learned to treat wounds and listen for vital signs. They looked at bacteria glowing with fluorescence. They even practiced CPR on lifelike human simulators. If it sounds like a program for college students, it is. However, the 51 students who participated in the Future Health Champions Day were all seventh- and eighth-graders from El Sol Academy in Santa Ana.
El Sol Academy students check vital signs
"The students we had visiting from El Sol Academy were exceptional," said Nancy Neudorf, MSN, RN, FNP, one of two Sue & Bill Gross School of Nursing instructors who headed up the dynamic nursing program for middle school students. "It's so inspiring to see these young kids explore college life and potentially a career in the health sciences."
Now in its second year, Future Health Champions Day builds on a much longer relationship between the school of nursing and the El Sol Academy.
"We initially partnered with UCI back in 2010 with the intent of having the nursing school students offer medical services to the families of students at El Sol," said Sara Flores, director of Community Life at El Sol Academy in Santa Ana.
Through the partnership with El Sol, nursing students visited the El Sol campus and provided various health screenings and nutrition education. They developed a Healthy Bodies curriculum for the seventh and eighth-graders, and a Healthy Minds program for kids in third, fourth and fifth grade.
"The nursing students were around campus a lot. They built a connection with our community, they mentored our students and promoted careers in the medical profession," said Flores. "We were thrilled when they invited our students to the UCI campus for a day of hands-on health education activities."
The first Future Health Champions Day was held in 2016.
"We're building a community built on caring and learning through our collaboration with El Sol," said Gianna Chandler, a nursing student at UCI. "Through this program we teach kids how to live healthy lives and they share that information with their families. We also open their eyes about career opportunities available in healthcare, opportunities that some of these students might never have been aware of otherwise."
"Nursing students from UCI work on site in Santa Ana with the El Sol community all year long. They gain both clinical and teaching experience by conducting health screenings and teaching a wide variety of health topics," said Neudorf. "The Future Health Champions
Day provides an opportunity to collaborate with various UCI and community partners to introduce young people, from an under-represented area, to careers in the health sciences."
Nurse practitioner graduate student Trudy Chancellor
"Through this program we're hoping to see some of our seniors go into healthcare careers," said Flores. "The exposure is really great for the students. Through UCI, our students feel more prepared, in the event of an emergency, to help their families. Future Health Champions Day is a program we are definitely going to continue."
"It's programs like this one that can make a real difference in the future of a young student, especially those who are as disadvantaged as some of the ones we see from El Sol," Chandler. "It would be really rewarding to see some of these kids end up at UCI one day."
Melissa Tran, Grace Chung, Gianna Chandler, and Angela Chung were among the UCI nursing students who led the Future Health Champions through the various health education stations and answered questions along the way.
El Sol students learned about the following topics in stations around the UCI health sciences campus:
El Sol Academy students learned and practiced CPR techniques
Healthy habits – mindfulness meditation and physical activity breaks, nutritionally and environmentally healthy lunches and snacks
Anatomy of the thoracic and abdominal organs via ultrasonography
Medical education via the Med Ed simulation center technology
CPR – including instruction in hands-only CPR
First aid – including RICE, wound and burn care, vital signs assessment, and contents of a first aid kit
Substance abuse – the
effects of alcohol, marijuana, and cocaine on human organs, drunk vision goggles simulation
Microbiology – how to use a microscope, bacteria
Biology – cardiac anatomy and physiology via dissected sheep hearts
Pediatric exercise physiology and research – the effects of aerobic exercise on vital signs and lung function
Splinting – when to apply, how to apply, and how to care for a splint
Founded in 2001, El Sol Science & Arts Academy of Santa Ana is a dual-immersion charter school with more than 850 students enrolled in preschool through eighth grade. Since its inception, student test scores have risen dramatically at El Sol, which is today recognized as one of the top-two performing schools in Santa Ana.
The Future Health Champions program is supported in part by a grant from the Office of Statewide Health Planning and Development, as a pipeline activity to inspire young people from under-represented and diverse ethnic communities to consider a career in the health professions. It is part of a series of community health events developed by Nancy Neudorf and Raquel Martinez-Campos from the Sue & Bill Gross School of Nursing.
Powerful innovations that develop in schools can spread rapidly through these partnerships. Instead of being siloed in their respective facilities, educators are now empowered and committed to working together in order to improve the educational experience for Orange County students of any socioeconomic status. Communication and information-sharing, regardless of politics or school structure, are key when teaching a new generation of students.
While there are few charter schools in the area, this collaborative approach is the future of public education and something that is beginning to be celebrated. For example, Chapman University's Attallah College of Educational Studies has created an annual ePrize for Excellent Schools award to recognize district schools and charter schools working together through innovation in support of this new approach. This year, Anaheim Union School District, El Sol Arts and Science Academy, and Manuel Esqueda School in Santa Ana Unified School District, were recognized as the inaugural winning partnership.
Our region is poised to continue to attract new businesses to the area, bringing new families with children eager to learn. A strong county-wide educational system remains an important issue with local stakeholders and is crucial for continued economic growth. We can easily become a model community for the development of 21st century skills with deep bilingual and bicultural assets that Chapman University and others will continue to spotlight.
The key to this success is the continued support of excellent districts and charter schools engaged in collaboration and forward thinking educational practices. Cooperation and innovation are the hallmarks of our community — the focus remains on providing the same opportunities for the best and brightest local youth at all income levels. Our region's future is in their hands.