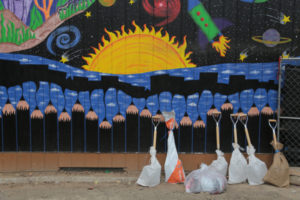 Read full article at ocregister.com
Twelve years after El Sol Science and Arts Academy opened its doors, the more than 800 students who now attend the Santa Ana school are getting a new campus equipped with a two-story classroom building and a wellness center.
On Thursday, officials broke ground on the 2.8-acre site. Construction has begun.
"Creating this new campus with permanent structures will allow us to design it in a way that doesn't just respond to our immediate need to put more students in, but the needs of the students overall and the education program," said Monique Daviss, executive director of El Sol.
The dual-immersion charter school opened in 2001 and primarily serves a low-income population in which roughly 75 percent of its students are eligible for free or reduced-price lunch and nearly 60 percent are English-learners, according to state Department of Education figures.
"A lot of recent immigrants are here, a lot of families are looking for a way to launch their new life and that's kind of how we got into the business of being more than just a school because families had so many multiple needs," Daviss said.
The school began with 110 students in kindergarten and first grade and now has about 830 students enrolled in preschool through eighth grade.
"The campus grew over time, so the way that we added modulars was sort of by need and not by design," Daviss said.
First phase of construction includes a 12-classroom two-story building and later a 4,000 square-foot wellness center with exam rooms and a lab that will provide healthcare to the families of El Sol, as well as the community at large.
Officials launched the SOS-El Sol Wellness Center about three years ago, but its facilities, like the classrooms, are now crowded and deteriorating, said Marshall Kaplan, advisor to The Merage Foundations and El Sol.
Kaplan said the two-story classroom is scheduled for completion this fall while the wellness center is expected to be finished March 2014.
More classrooms and a multi-purpose building aimed to serve as a community meeting space will be built during another phase of construction. The price tag: approximately $15 million.
On Thursday, Julie Palacios, 37, whose two daughters attend the school, said the new building will be a tremendous help.
"We need more space. The school is so small," Palacios said. "We can have space for the playground."
Palacios, who initially thought the school was exclusive, spoke fondly of her experience at El Sol. She remembered standing out in the rain at 4 a.m. to get her daughter on the top of the waiting list.
"We've had the best experience here," Palacios said. "They're open to have parents help them. We work as a team. The teachers support us as parents and we as parents support them."
The students, Kaplan said, deserve the new campus.
The school has risen from one of Santa Ana's lowest performing schools with an API score of 559 in 2003, to one of the district's top performing schools with a 2012 API score of 872. In 2011, the school received a Title I Academic Achievement Award.
"What makes it so good is that the community is responding to the kids and the leadership of El Sol," Kaplan said. "The kids are performing well."
El Sol's strong partnership with The Merage Foundations, based in Newport Beach, has given the school access to an extensive network of influential donors and organizations that have funneled money or other support into the extra programs and services.
Funds for the 12-classroom building and the wellness center, costing an estimated $10 million, have been fully raised with about 30 percent coming from gifts and donations from Orange County business leaders. About 70 percent of the funding comes through the New Markets Tax Credit program, which attracts investment money to low-income communities by allowing investors to receive a tax credit against their federal income tax return.
"There was a lot of talk about this was the dream of the school, but it's really about the dreams of these families," Daviss said. "This school can serve as a way for them to make things happen."